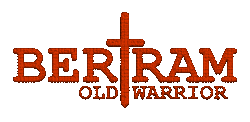 Bertram: Old Warrior is an action-adventure series created and directed by Neil Lambert. The series focuses on the adventures of Bertram, a young tank engine, and his destiny to become the 'Old Warrior'.
Long before recorded time, the prophets spoke of an engine known only as the Old Warrior. A engine who would become a hero to many, setting events in motion that would forever shape railways to come.
Bertram's peaceful life changes forever when tragedy strikes when he least expects it. As he embarks on a brand new journey, Bertram's courage is put to the test as he is thrown into a world of mystery and adventure. With the help of his loyal friend, Proteus, Bertram dives right into the action be it helping fugitives or battling evil foes. Destiny calls for him to step and become the Old Warrior!
Development
Edit
Neil Lambert had an idea for a new series in December of 2014 about Bertram and immediately set about designing and building brand new characters using different old Wooden Railway models. He and his close friend, Matt Rhyndale, planned and wrote several episodes for the new series. Some test footage was produced by both Rhyndale and Neil which featured in an unreleased test trailer which currently exists. In late July 2015, Neil changed his channel name to BertramOldWarrior so as to promote the series.
The first season premiered on September 18, 2015 with the pilot episode, Genesis. Two weeks later, the second episode, Adapt, was released. However, due to a personal loss, Neil Lambert left YouTube, putting the series on hiatus. However, in 2020, following an announcement on Twitter, the series resumed with the release of the episode Clash on July 10 and more episodes are being produced at present.
Neil Lambert considered a number of different names for the series, including Old Warrior: A Legend Rebuilt and Bertram: A Warrior's Footsteps, before settling for Bertram: Old Warrior.
Community content is available under
CC-BY-SA
unless otherwise noted.