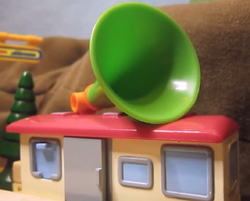 Ellis Garth
Ellis Garth was the controller and owner of the Cynwrig Railway. He died of pulmonary embolism in 1905.
Ellis Garth owned the Cynwrig Railway with his vice controller, Huxley Billingsworth.
In 1905, Dr. Cadoc confirmed Garth died of a pulmonary embolism and the railway was subsequently closed and the engines, Bertram and Gwydion, sold and abandoned.
Garth was a strict and sharp man, never one to let his engines waste time. Despite his sarcastic nature, he was loved by the engines and everyone was devastated by his death, most of all Bertram.
Appearances
Edit
Garth is conveyed through a megaphone and is never seen in person. Neil Lambert confirmed to fans that this was meant as a reference to the well-known series TUGS.
Community content is available under
CC-BY-SA
unless otherwise noted.